Mayor of London says Heathrow expansion is 'not the answer' as cabinet row brews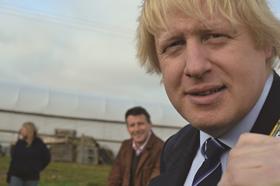 The mayor of London Boris Johnson has swiftly dismissed a third runway at Heathrow as "not the answer", after the Davies Commission backed Heathrow expansion in its final recommendation this morning.
Johnson told the BBC's Today programme that he still favoured building a brand new airport in the Thames Estuary - an option he has long-supported but which the Davies Commission rejected at the shortlisting stage last autumn.
Johnson said: "[Heathrow's] plan is the same, if not worse, than the one on the table six years ago. I don't think this is going to happen, this is the sort of thing you could possibly have got away with in China in the 1950s but the impact on London, the impact on the city, the environmental cost, the whole human rights, legal challenges that will inevitably ensue will be so great that I don't think it's deliverable.
"I think, actually, having circled around and around this debate for years and years, as we have, we will eventually come in to land at the estuary, that is where this is going to end up."
Johnson's intervention is an early indication that the Davies report could spark a row between Conservative cabinet ministers - a handful of whom are known to oppose Heathrow expansion.
Transport secretary Patrick McLoughlin will provide an initial response to the Airports Commission's findings in a statement to parliament after Prime Minister's Questions this lunchtime, but a full government response and decision is not expected until the end of this year.
When asked about Boris' opposition to Heathrow expansion at a press conference this morning, Davies said: "The mayor says it won't work, but the mayor says a lot of things".
Meanwhile, the Labour party gave Davies' report qualified support. Michael Dugher, shadow transport secretary, said: "We will scrutinise the Airports Commission's final report carefully.
"If the recommendation can meet a number of tests, including consistency with our climate change obligations, we will take a swift decision to back Sir Howard Davies' proposals."
Construction industry leaders have urged the govenrment to make a swift decision on airport capacity.