Mayor of London tells Cameron to ignore Davies report as former transport minister brands it 'illogical'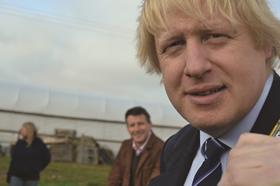 London mayor Boris Johnson made an impassioned case for an estuary airport in his keynote Conservative party conference speech.
Johnson led the charge of senior Tories today calling for prime minister David Cameron to ignore the recommendations of Howard Davies' Airports Commission to build a new runway at Heathrow.
Davies recommended expansion at Heathrow after taking three years to pull together his report, with the government promising to make a decision by Christmas. A number of cabinet ministers, including Johnson, foreign secretary Philip Hammond, home secretary Theresa May and international development secretary Justine Greening, are known to be opponents of expansion there.
Johnson branded Heathrow an "environmentally disastrous solution" and called on Cameron not to "bodge" the decision by building only one runway and putting it in "the wrong place."
Johnson has campaigned loudly against Heathrow expansion since being elected mayor, however choosing to highlight the issue in his set piece conference speech during the week's when a decision is pending, made today's comments significant.
Johnson's comments were strengthened by the intervention of former junior transport minister, Tory MP Stephen Hammond, who told a fringe event at the conference that the Davies Commission report had major flaws and would not be used as the basis for the airport expansion decision. He said Davies had ignored his own initial requirement that the site for airport expansion should be able to handle capacity growth until 2050, and said there was no way Heathrow would be able to meet the environmental and noise constraints placed on it.
Hammond said: "I think the report will be quietly pushed away by government. And whatever decision is ultimately made, this report won't form the basis of it." Asked for his perspective from inside the department on the reaction of ministers to the contents of the report, Hammond said: "I'll just say this report won't secure Howard Davies' peerage."
Speaking at the same event, Stephen Norris, a former transport minister in John Major's government who is backing expansion at Gatwick, said Heathrow was "unbuildable", and claimed the airport had "broken every environmental commitment its ever made." He added that David Cameron's 2009 commitment to stop Heathrow expansion "no ifs, no buts", was a substantial problem for him.
Johnson also said the construction of Crossrail 2 would allow the development of 200,000 new homes in London, and that "thanks to the support of the prime minister and the chancellor" he was confident it would be "in the ground by the end of the next decade."
Johnson added that he would "defeat the haters of beauty" and press ahead with his plan to build a "Garden Bridge" across the Thames between Blackfriars and Waterloo.