London mayor approves plans for 335 homes next to historic club, as well as controversial free school in Southwark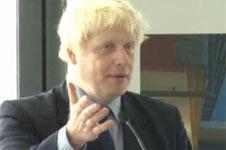 London mayor Boris Johnson has given the green light to construction of 335 homes next to the Ministry of Sound club in Southwark, following a long-running planning dispute.
The 41-storey scheme from developer Englewood Limited is sited next to the Elephant and Castle shopping centre and includes retail and a public square.
The Ministry of Sound nightclub opposed the plans, claiming that residents of the new development could threaten the future of the club with complaints about noise disturbances.
The developer altered its original design to include acoustic glazing, sealed windows and internal 'wintergardens' to address the club's concerns.
Boris Johnson said: "This scheme will deliver much-needed housing in Elephant and Castle while ensuring that the Ministry of Sound, one of London's leading cultural and musical icons, can continue to thrive for years to come.
Johnson also approved controversial plans to construct a free school and 19-storey housing development in the same borough.
Southwark council had rejected the plan on the basis the designs were overbearing" and the development would have removed valuable industrial land from the borough.
However, Johnson said he decided to call-in the scheme for determination because of the need for school places in the borough.
The Southwark Free School will include an extension for the sixth form at the City of London Academy and 158 homes.