Boris Johnson plans to object to Labour-led council's decision to reject affordable homes programme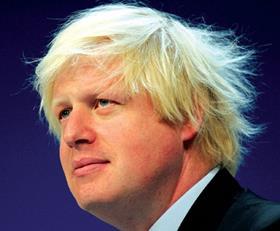 Boris Johnson is set to intervene over Islington council's move to reject the government's £1.8bn affordable homes programme, in a move likely to spark a furious row between City Hall and Labour boroughs.
The move comes after Labour-led Islington council last week rubber-stamped its proposal to reject the government's affordable rent policy, which gives a limited grant to developers for homes which can be let at up to 80% of the market rent.
Islington maintains that the affordable rent strategy - delivered through the £1.8bn affordable homes programme - will not lead to the development of "truly affordable homes" and has instead pledged £2.5m of its own money for housing associations to build homes for social rent, which is set at around 30-35% of market rates.
Under its plan, which could yet be followed by other Labour boroughs in the capital, the council says housing associations will build 61 homes for social rent across the borough over the next two years.
However, sources at City Hall have told Building that the mayor of London will formally object to Islington's policy when it is put to independent examination by the Planning Inspectorate on the grounds that it is out of step with both the London Plan and national policy.
"We fully expect the planning inspectors to strike this down," one City Hall insider said.
Last week a report by the National Audit Office on the affordable homes programme warned that moves within London by some councils to oppose the affordable rent strategy could impact on the viability of schemes as developers would be unable to charge.
James Murray, Islington council's executive member for housing, insisted that borough plans did not need to conform "in every aspect" with the London plan. He said that under the policy more houses would be built in the borough and that meant it was in "general conformity with the London plan".
He said the council was in discussions with the mayor's office about the policy and he hoped a solution could be reached.
A spokesperson for the mayor said: "The mayor will look at Islington's proposals and make his views known at the examination".
The news emerged as Homes and Communities Agency chief executive Pat Ritchie confirmed the agency will accelerate the £1.8bn affordable housing programme.
Building first revealed in June the move to bring forward housing spend and this week Ritchie told a meeting of the Public Accounts Committee that 6,500 homes would be brought forward from 2014-15 into earlier years of the programme.