London mayor calls in Farrell-designed development after developer falls out with council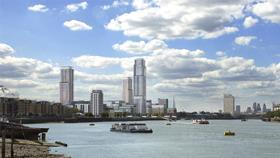 London mayor Boris Johnson has called in the Farrells-designed £1bn Convoys Wharf scheme in Deptford, taking the decision out of the local authority's hands.
Johnson granted a request by developer Hutchinson Whampoa to take over judgment of the scheme after the developer complained of delays in the planning process, according to Building's sister title Building Design.
Hutchison Whampoa lost patience with the local authority, accusing it of making "unreasonable and unwarranted" demands and of pushing the scheme's viability "to its limits".
The masterplan is for a mixed-used development including three towers up to 48 storeys high and 3,500 new homes.
The mayor said: "In this particular case the planning history over the long term and particularly over the past year or so indicate that the breakdown in relationship between the council and the applicant is such that I am not satisfied that you will be able to reach a timely planning determination in respect of the current planning application for this important site."
A Lewisham council spokeswoman said it was hugely disappointed by the mayor's decision.
"We will continue to represent local concerns and support the appropriate regeneration of our Thames waterfront to provide much-needed jobs and homes," she added.
The original version of this story appeared in our sister publication Building Design here.