Campaign group and Conservatve MP lobby mayor of London over design of Ealing Broadway station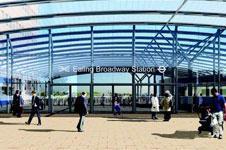 London mayor Boris Johnson is under renewed pressure over the design quality of Crossrail amid claims that initial plans for the line's Ealing Broadway station approved in the Crossrail Act were subsequently downgraded.
A letter to the mayor, sent last month by a residents' lobby group and seen by Building, calls the exterior of the current scheme, drawn up by Bennetts Associates for Network Rail a "disgrace" and complains that the basic components of a "promising" initial plan for the station by architect BDP were approved by parliament but were later ditched without its approval.
Crossrail has been under pressure over its design standards after it decided not to use independent design review on its 27 outer London surface stations, as it did with the inner London Crossrail stations.
The letter, from lobby group Save Ealing Centre, is co-signed by prominent figures including architect Richard Rogers and planner Sir Peter Hall.
It adds of the current design: "It looks as if some drunk wants to stick a petrol station canopy on the existing concrete facade."
While chapter 22 of the Crossrail Bill says there will be "a new passenger footbridge" plus "three escalators" at Ealing Broadway, neither of these features is part of Bennetts' current design, which is in for planning.
Building has also seen an image of BDP's original design for the station frontage (pictured), which shows a curving glazed canopy, contrasting with Bennetts' more basic proposal.
A second letter to the mayor sent last month and from local Conservative MP Angie Bray, also strongly criticises the existing "drab" design and calls on Johnson, who has ultimate responsibility for Crossrail, to support a new architectural competition for the station.
Bennetts declined to comment but has previously responded to criticism of its design by complaining of a "constraint on brief and budget".
A spokesperson for the mayor of London said: "Crossrail are working with the local authority, community groups and the architects to improve designs.
"But the mayor is aware of the local concerns and his deputy mayor for transport is organising a meeting with some of the key stakeholders to discuss and try to resolve the matter."