Kier had been earmarked for the job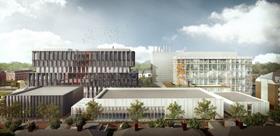 Bouygues UK has secured a £122m deal to build the next phase of Cardiff University's new £300m Innovation Campus.
The contractor is set to turn a disused railway yard into a centre for innovation, the Cardiff Innovation Campus.
Kier carried out preparatory work for the job and had been expected to take on the main contract for building work.
But the university draw up a shortlist for this phase last September, appointing Bouygues "thanks to its impressive work on similar projects, including building significant higher education developments across Wales, the UK and globally".
The new facilities have been designed to provide facilities that help researchers, students and industry work together to create products, start-ups and social enterprises.
The Campus, at Maindy Park, will feature two new main facilities. One will house Spark, a social science research park, and the Innovation Centre – a creative space for start-ups and partnerships.
The other will be home to two scientific research groups – the Institute for Compound Semiconductors and Cardiff Catalysis Institute.
Cardiff Innovation Campus has already been given more than £40m in funding from a number of backers including the Welsh government and the UK Research Partnership Investment Fund.