French contractor will build a training centre and a warehouse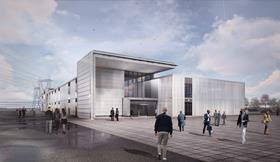 Bouygues UK will start construction on a Simulator Training Centre (pictured) and warehouse at Hinkley Point C later this year after winning a £35m contract from EDF Energy.
The centre will be used to train nuclear operatives to control the European pressured reactors and house the control room simulator.
The warehouse will be used for the storage and preparation of primary circuit components during the construction of the two nuclear reactors, before general use as a workshop for the life of the power station.
This is the third appointment for the French contractor at Hinkley, with Bouygues having already taken a £1.5bn deal to construct the buildings that will house two nuclear reactors in a joint venture with Laing O'Rourke.
Bouygues was also selected to design and build the backup plant for Hinkley Point C in 2017.
Bouygues promised to make use of local supply chains, saying that over 80% of onsite labour will be sourced from within the south west region. The warehouse and training centre are due for completion by late 2020.
Hinkley Point C will be the first nuclear power plant built in the UK for over 20 years, and is predicted to cost clients EDF and China General Nuclear £19.5bn.
It was originally conceived as the first among a new crop of nuclear stations, but a National Infrastructure Report published earlier this month cast doubt over the future of nuclear in the UK.