£20m housing scheme will see renowned comedy club receive facelift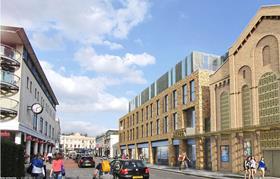 Bouygues UK has won a £20m project to build more than 80 new homes in the London borough of Greenwich for the housing association Family Mosaic.
The design and build scheme at Creek Road will provide 83 homes, of which 62 will be for affordable housing.
The mixed-use development, which involves the demolition of the derelict homes and disused car wash that currently occupy the site, will also include 1800m2 of commercial space at ground level.
The project will also renovate the front of the renowned Up the Creek comedy club, which has hosted many of the most famous names in British humour since its foundation by the late Malcolm Hardee in 1991. The homes will be built to Level 4 Code for Sustainable Homes.
Demolition and excavation work is currently underway at the site and construction is scheduled to begin early next year. The new homes are due for completion in late 2016.
Bouygues UK's regional director for housing in London, John Campion, said: "This is a complex project, which will involve careful and sensitive removal of existing buildings and structures on the site and the construction of 83 new homes with a combination of tenures to address different housing needs. As this contract shows, we are committed to working with social housing providers to deliver high-quality homes as part of economically viable mixed-use housing schemes in the capital."
Family Mosaic provides around 24,000 homes for rent across London and the south-east of England.