The contractor was named as the preferred bidder for the AHMM-designed scheme last February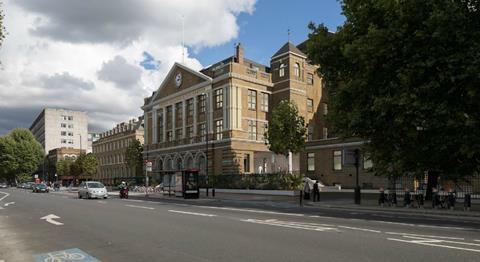 Bouygues UK has officially signed a £110m deal to convert the former Royal London Hospital into a town hall.
The contractor has been involved in preparatory work at the scheme since August 2018, after being named as Tower Hamleta council's preferred bidder in February last year.
The scheme which has been designed by AHMM, was granted planning permission in March last year.
The new town hall will be created through part new build and a refurbishment of the grade II listed building to provide 26,700m2 of space.
The ground floor will be given over to public use allowing access to all the council's services in one place, as well as housing meeting rooms, a café and the council chamber.
The scheme is part of Whitechapel Vision, one of London's largest regeneration projects, which includes the construction of a new life sciences campus, seven new public spaces and 3,500 new homes, along with the creation of 5,000 jobs.
It will be located next to the new Whitechapel transport hub, served by four train and tube lines along with bus and cycle routes.
The works will involve an estimated 500 people working on site at peak periods and is expected to be finished in time for the town hall's scheduled to opening in 2022.