Housebuilder lays out further plan to double output of the business on 2013 numbers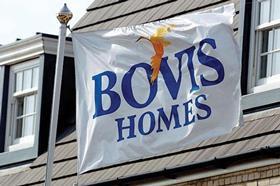 Housebuilder Bovis has laid out plans to double the size of its business in a major push to take advantage of the strong housing market.
The strategy announcement came as the firm, which has already been growing quickly in recent years, posted a 75% jump in revenue over the first half of the year, with profit in the period more than doubling to £50.4m.
Bovis, which sold 2,813 homes in the last calendar year, today said it will grow the business to produce between 5,000-6,000 homes per year within "the next few years." It also raised shareholders expectations of future dividends, committing to an enhanced dividend of 35 pence per share in 2014, at least the same in 2015 (2013: 13.5 pence) and a revised dividend policy thereafter.
Reporting its results for the six months to 30 June, Bovis Homes posted revenue of £322m for the period, up 75% on £184m over the same period a year ago.
The firm posted pre-tax profit of £49.4m, up 166% on £18.6m last year.
Chief executive David Ritchie said the expansion in production would be achieved without opening new regional businesses, and without expanding the firm's geographical footprint. Bovis currently operates eight regional business predominantly in the south of the UK, with some trading in the North west.
"We're not looking to change the model," Ritchie said. "We're moving the business to take a big step up, but we think we can do that at a premium margin."
However, Ritchie said the firm was "not at all saying" it wanted to be the biggest housebuilder in the country. He said he was not worried by reports of sales price growth easing in recent months, because modest house price growth was likely to be sustainable for a longer period of time. "We're at best 18 months into a cyclical recovery, history says that this is likely to be a relatively sustainaed period of recovery. Our considered view is that we're at the early stage of housing market recovery."
Ritchie said the sudden turnaround in the housing market was not impacting greatly upon land or material prices, but was causing labour costs to rise sharply. In total he said the cost of building a home had risen 5% in the last year, mainly due to labour costs, faster than than the 4% rise in house prices. "Wage inflation is certainly out there," he said. "And in the short term it has in some cases been quite aggressive. Labour is a real pinch point."
For the last six months Bovis posted a 54% increase in legal completions to 1,487 homes, with its average sales price rising 20% to £239,500.
In the firm's statement to the city Ritchie said the number of half-yearly completions was a record for the firm. He said: "We have developed a strategic plan which would see the business, in a stable housing market, growing over the next few years to annual volumes of between 5,000 and 6,000 new homes at premium profit margins benefiting from the effectiveness of the operating model."