Housebuilder posts strong results after boosting completions, margins and sales prices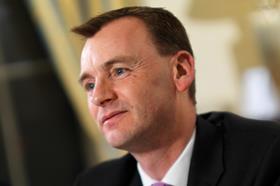 Bovis Homes has posted a 69% rise in profit in its full year results, thanks to growth in completions, margins and sales prices.
The housebuilder reported pre-tax profit up 69% to £54.1m for the year ended 31 December 2012, up from £32.1m the previous year.
Revenue grew 17% to £425.5m, up from £364.8m.
Bovis Homes said the pre-tax profit figure was at the upper end of market expectations.
Completions rose 15% to 2,355 homes (2011: 2,045), the average sales price rose 5% to £170,000 (2011: £162,400) and the operating profit margin increased 13.4% (2011: 10%) over the period.
The firm said there was "significant growth in future profit potential" due to a rise in the number of consented plots at the end of last year.
David Ritchie, chief executive, said: "The Group delivered strong growth in profit and return on capital employed in 2012 in a challenging but stable market environment.
"These improvements have been achieved through the compound positive effect of increased volumes, improved sales prices and stronger margins.
"Significant progress has also been made in positioning the Group for sustained improvements in future shareholder returns.
"After another year of substantial land investment in 2012, the Group expects to deliver a strong increase in active sales outlets in 2013.
"Assuming a continuation of stable market conditions, this will further enhance volumes, sales prices and profit margins.
"Combined with driving profitability, the Group is aiming to deliver enhanced shareholder returns from improving the efficiency of its capital employed through continuing its focus on both land bank management and tight control of working capital.
"As a result, on the basis of stable market conditions, the Group will deliver strongly increasing returns on capital employed in 2013, with the expectation of continuing progress for the foreseeable future.
"On 22 February, the Board announced the forthcoming retirement of Malcolm Harris, non executive Chairman, in November 2013.
"Malcolm has been Chairman for nearly five years and has led the Group through a period of strong growth in shareholder returns. I would like to thank him for his support personally and his significant contribution to Bovis Homes over many years. I wish him well for the future."
"I would like to recognise the considerable effort, commitment and hard work of our employees during 2012 and to thank them all for their contribution to the Group's success."