Strategic measures will result in a 'significant step up in profitability', says CEO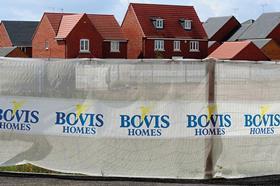 Bovis said today it was on track to hit its gross margin target of 23.5% as it reported a 4% increase in the number of completed homes delivered in the first half of the year.
The housebuilder, which is 14 months into a transformation programme after it saw off a bid from rival Galliford Try and the arrival of chief executive – and former Galliford Try boss – Greg Fitzgerald, said it had completed 1,580 homes in the six months to the end of June 2018.
Fitzgerald said the firm expected to deliver what he called "a significant step up in profitability for the half year" as various strategic measures launched over the past 18 months began to take effect.
It said 1,030 units were private sales with affordable homes accounting for 550, up 48% due to what the firm rejigging its planned build programme.
The group's total average selling price was around £261,000, down 6%, reflecting a higher contribution from the sale of affordable homes.
Bovis said it had opened 17 new sites in the period, operating from an average of 86 active sales outlets, down 10 on the same time last year. Bovis plans to launch six new sites in the next three months and expected its average active sites number to increase in the second half.
Last year Bovis reported first half pre-tax profit of £42.7m, down 31%, on turnover of £428m, up 4%.
The housebuilder will announce its interim results on 6 September 2018.