Increase in first half numbers reflects "excellent progress", says CEO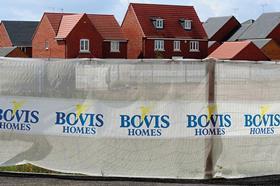 Bovis has reported a 41% hike in pre-tax profit for the first six months of 2018, fuelled by what the housebuilder called a "step change" in the quality of its new homes.
Chief executive Greg Fitzgerald, who was lured out of retirement last year to lead the housebuilder after it had rebuffed the advances of Galliford Try and Redrow, said the profit rise in the first half reflected "the excellent progress made across all business areas over the past 18 months, [plus] a step change in the quality of the homes we are building and level of service we are providing our customers".
While Bovis' revenue for the six months to the end of June 2018 rose just 1% to £432m, its gross margin grew 280bps to 20.9%, with pre-tax profit coming in at £60.2m.
The group has rewarded shareholders with a 27% increase in the interim dividend payout to 19p a share.
Total completions increased by 4% to 1,580, of which 1,030 – down 10% – were private units, while affordable rose 48% to 550 units. Bovis said it anticipated affordable homes to represent around 30% of total completions for the year.
The group's total average selling price decreased to £262,700, down 5%, the decline reflecting the higher percentage of affordable completions in the first half. The average selling price for private units was level at £334,700.
Help to Buy remained at a similar level to last year with 36% of reservations using it in the first half, versus 34% a year ago.
Bovis also announced it had conditionally exchanged contracts with Clarion Housing Group to turn its development at Sherford near Plymouth into a 50:50 joint venture. Bovis will build, promote and sell 1,500 new homes for the JV, for which it will receive a fee.
And a net debt position of £32.4m this time last year had been turned into net cash of £42.8m, which Bovis said was delivered through better working capital management, including a further £10m reduction in its part-exchange balance.
The housebuilder said profits had risen "significantly" thanks to the work done in the past year to turn its fortunes around. Eighteen months ago Bovis was underperforming its peers – and was in the sights of rivals as a takeover target – as well as coming under fire from homebuyers for quality issues around its finished product, prompting it to shell out £10m to fix a series of snagging issues across its sites.
Fitzgerald was appointed in April last year and immediately sought to reverse its decline by implementing a number of quality initiatives, including sending the majority of its staff on customer service training programmes.
He said today the group expected to deliver a record profit for the full year.