Corporate turnaround continues, but shares tumble as housebuilder warns Brexit concerns still present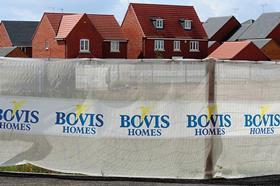 Shares in Bovis dived by nearly 7% this morning as the housebuilder said Brexit jitters were stifling sales from discretionary home buyers and it was upping its part-exchange scheme.
The housebuilder, which is in the middle of an overhaul by chief executive Greg Fitzgerald, said its sales rate per outlet per week for the year to date was level with last year – 0.51 – and pricing was in line with expectations.
But despite predicting it would deliver "record profits" Bovis warned that Brexit uncertainty was putting off discretionary buyers and it had ramped up its use of part-exchange facilities to around 15% of reservations in the second half of the year.
The group, which last year reported a pre-tax profit of £124.3m, claimed to be on track to deliver its medium term targets – including HBF satisfaction and a minimum of £180m cash delivery into the business – as early as next month, nearly a year earlier than forecast.
Bovis said it was continuing to buy land with an average expected gross margin of at least 26% and a return on capital employed of 25%.
Fitzgerald said the firm's customer service approach was being "transformed", while a step change in build processes and quality was "driving a significant improvement in our financial performance.
"We are fully sold for this year and continue to target a record year of profits for 2018," he added.
Fitzgerald was lured out of retirement 18 months ago to revive the struggling housebuilder's fortunes and immediately set about addressing quality and customer service issues across its sites.