Council's executive to approve hunt for a firm to build 100,000ft² development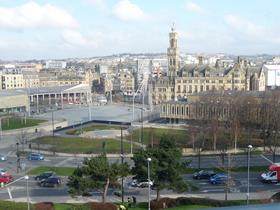 Bradford Council hopes to appoint a contractor to start work next year on the One City Park, a near-100,000ft² commercial scheme in the city's centre valued at between £25m and £50m.
The council's top brass will be asked next Tuesday (10 July) to approve the start of the process to appoint a preferred development partner, with construction expected to start in April 2019 and completed by the spring of the following year.
Part of the site (pictured) was occupied by a now-demolished police station. There has been a temporary garden on the site while the council sought to get the new scheme started.
Councillor Alex Ross-Shaw said One City Park was "a key site with exciting possibilities and it forms part of our wider plan for driving forward the city centre's resurgence with private sector investors".
The council said the scheme would drive economic growth, secure new investment and generate high quality jobs and skills opportunities in the city centre.