Leaked document points to poor construction and incorrect materials used in doomed tower's refurbishment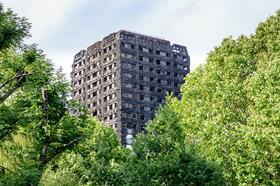 A new report has outlined a catalogue of construction and material failings at Grenfell Tower where last year 71 people died in the blaze which ripped through the 24-storey apartment block.
The 200-page document, a draft copy of which has been seen by the London Evening Standard, was written by BRE Global, which independently certifies fire prevention products, and commissioned by the Metropolitan Police as part of its investigation into the deadly June 2017 fire in west London.
The leaked report, dated 31 January 2018, highlights failings around the refurbishment of Grenfell Tower, which took place between 2014 and 2016, and areas where building regulations had been ignored.
It says cavity barriers, which were supposed to expand and seal the void between the concrete surface of the building and cladding insulation and were fitted during the refurbishment, were of "insufficient size specification".
Some cavity barriers were installed "upside down" or "back to front", the report said, suggesting human error was to blame.
And window frames were reportedly "significantly narrower than the gap between the concrete surfaces of the columns, 150mm narrower".
Resulting gaps were filled by a rubberised membrane, rigid foam insulation and uPVC lightweight plastic panels, with "none of the materials used capable of providing 30 minutes fire resistance".
The report said this provided "a direct route for fire spread around the window frame into the cavity of the facade…and from the facade back into flats".
It also found insulation used in the cladding was "combustible" and "provided a medium for fire spread up, across and within sections of the facade".
BRE said the manufacturer of the 75mm insulation foam used on most of the spandrel beams was not stated on the material.
The aluminium composite used in the cladding had a polyethylene core which was highly combustible, while the report suggested many of the flats' front doors did not have door closer mechanisms, meaning they remained open after residents fled their properties, exacerbating the spread of fire and smoke.
Last week the government announced the launch of a consultation to toughen up the regulations covering fire safety testing.
Communities secretary Sajid Javid said the consultation would look at restricting or banning the use of desktop studies as a way of assessing the fire performance of external cladding systems.
The government has also asked whether desktop studies should be used at all.