Assessment will aim to raise consumer confidence in off-site techniques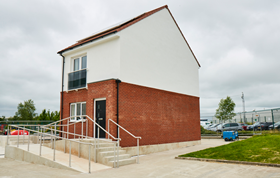 Industry research body BRE is launching a new product standard next month to cover off-site construction techniques to help boost consumer confidence in the quality of prefabricated buildings.
The standard is designed to help address the gap between growth in off-site construction – the value for which currently stands at around £1.5bn, or 12% of the market – and consumer attitudes towards the technology, according to David Gall, associate director and Construction Products Sector Lead at BRE.
Modular housing is taking off across the UK, with Berkeley Homes announcing last month it had been granted permission to build a new modular housing factory on a 10-acre site in Ebbsfleet, Kent, capable of putting together 1,000 prefabricated homes a year. And Legal & General Homes has also tested the waters, unveiling a prototype two-storey, two bedroom house (pictured).
BRE said that while the supply side was gearing up to meet needs, consumer confidence in offsite manufacturing needed developing. "There is a 'prefab perception', especially among the general public, that remains despite being outdated. Therefore, a focus on the quality and performance of factory fabricated new homes and buildings – such as health care facilities and schools – is critical to drive consumer confidence and demand," it added.
The new BRE Product Standard assesses issues including acoustics, access to daylight and vibration, "and assures the public that the modular homes and buildings they are renting, buying or using are built and perform to the highest standards".
The government wants 100,000 new modular homes to be built during the current parliament. The BRE said it was "critical that these new pre-manufactured homes, offices and public buildings are well manufactured, constructed and perform to the highest standard lest they under deliver and consequently build up problems in years to come".
Laing O'Rourke lands offsite gig with Stanhope
Laing O'Rourke has been handed a role to carry out offsite work over the next five years for a team including Stanhope looking at carrying out regeneration work across a host of sites in London.
The first work under the deal is a £200m scheme to build around 550 homes at a former light industrial site at Southall in west London.
The scheme will use a combination of traditional build and modern methods of construction, with elements such as bathrooms, balconies and panelling being assembled in factories before installation.
Stanhope signed a deal to redevelop sites with Wembley-based housing association Network Homes back in 2016 with the pair bringing in Laing O'Rourke as its construction partner. The Southall scheme is expected to start early next year.