Project team seeks approval for first phase infrastructure and other works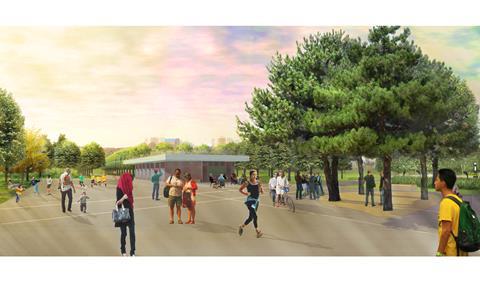 The Clitterhouse Playing Fields and new pavilion that are part of the first phase of Hammerson and Standard Life Investments' first-phase plans for the Brent Cross Cricklewood regeneration project.
Developers behind £4.5bn plans to redevelop north-west London's Brent Cross Shopping Centre and regenerate the wider Cricklewood area have submitted a detailed planning application for a first phase of work.

Hammerson and Standard Life Investments's plans for the first phase include shopping-centre related infrastructure, new sports pitches, tennis courts, a cafe, pavilion and changing rooms for Clitterhouse Playing Fields, and 47 replacement homes for residents being moved from the Whitfield Estate as part of the regeneration scheme.
The developers have agreed a commercial deal with Barnet Council for the shopping centre's transformation, but are in the process of exiting its ownership of the wider regeneration scheme.
The authority expects to announce a development partner for this 350 acre brownfield portion of the scheme later this year.
The whole project is earmarked for 7,500 new homes, three new schools, a new cinema, a leisure centre, a health centre, a new train station on the Thameslink line, and a new bus station, and the transformation of the shopping centre itself.
The first phase also covers the transformation of Claremont Open Space into a new community park, and the creation of a new Brent Riverside Park south of Brent Cross Shopping Centre.

Development director Mike McGuinness said the project's early works would see "significant investment" into green spaces, while investment in transport infrastructure would "hugely improve" local roads and junctions.

"After so many years in the planning, we are looking forward to making good our promises about community benefit and if consent is granted, we intend to start work in the summer of 2016," he said.

The Brent Cross Cricklewood project originally received planning permission in 2010 and an updated planning permission was approved in July 2014.

Hammerson said it expected Barnet Council to make an enabling compulsory purchase order in the coming weeks to secure the land, interests and rights required for the first phase of regeneration.

It said the full process was likely to take 15-18 months and that a start on site was anticipated in 2017 for completion in 2020/21.