Northern Ireland practices fret over lack of sitting government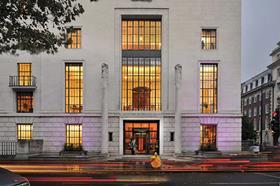 Brexit and a local government stalemate are blunting architects' confidence in London and Northern Ireland, according to RIBA's latest Future Trends survey about upcoming workloads.
Practices in Northern Ireland returned the lowest balance figure of 0, a repeat of January's score, while those in the capital continued to be relatively pessimistic, with a balance figure of just +1, up from -14 in January.
Confidence collapsed among large practices, those with more than 50 staff, which returned a balance figure of 0 from last month's +14.
RIBA's executive director Adrian Dobson, said the pessimism shown by larger practices and those in London and Northern Ireland was "most likely due to the uncertainty surrounding the Brexit negotiations and also perhaps the current lack of a sitting government in Northern Ireland".
But medium-sized firms (11 to 50 staff) were more positive with a balance figure of +8 with small practices (1 to 10 staff) the most confident with a balance figure of +18.
While the index posted an overall recovery in February, rising to +17 from January's +12 score – the third consecutively monthly increase in a row since its November 2017 low – the latest data highlighted a mix of attitudes towards medium term workloads.
Firms in the South East returned a balance figure of +21, Wales and the West +22, the Midlands and East Anglia +27 and the North of England +32.
Sector-wise those firms working in private housing remained the most upbeat, rising to +21 in February, up from +13 in January.
Dobson added that "a number of practices have commented that a fast-developing build-to-rent market is paramount to their current and future workloads".
The commercial sector workload forecast also grew, with a balance figure of +7 in February, up from +1 in January.
The public sector workload forecast came in at +2, up from -4 in January, while the community sector forecast headed further south, coming in at -4 in February compared with January's -1.