Housebuilder set to see sales and profit rise but consumer confidence remains a concern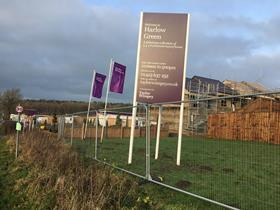 Taylor Wimpey said today it expects to improve on last year's record turnover of £3.97bn when it announces its results for 2018 next month – but warned political and economic uncertainty could hold back consumers.
The housebuilder said revenue and margins were up year-on-year, while the number of completions rose 3% to 14,947 units.
Average selling prices on private completions increased by 2% to £301,000, with the overall average selling price remaining flat at £264,000.
Market forecasts put the firm's total revenue at between £3.9bn and £4.2bn and pre-tax profit of between £824m and £870m.
The group said trading had been "robust" despite signs of increasing customer caution towards the end of 2018 in London and the South East.
Taylor Wimpey's chief executive Pete Redfern said the likelihood of a quarter-point rise in base interest rates this week wasn't a major cause for concern, although overall consumer confidence – against a backdrop of Brexit and economic uncertainty – was "more of an issue".
Redfern told Bloomberg that the weakness being seen in the upper end of the London housing market was unlikely to spread out to the rest of the UK.
The group's £1.8bn order book, up 9%, equated to 8,304 homes, an increase of 16%, with growth being credited to a rise in affordable housing, up 22%.
Taylor Wimpey will announce its 2018 results on 27 February.