Michelmersh predicts full-year figures 'significantly below market expectations'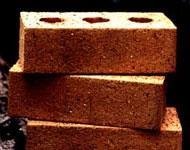 Michelmersh Brick Holdings has issued a profit warning alongside its financial results for the six months to the end of June.
The brickmaking, land and landfill firm declared a first-half pre-tax loss of £84,000 for 2012 on turnover of £11.9 million.
The figure compares with a pre-tax profit of £105,000 on turnover of £12.2 million for the same period in 2011.
Michelmersh said it had sold some 33 million bricks in the first half of the year, down from 36 million in the first half of 2011
Chairman Eric Gadsden said the firm's board now expected turnover for the whole year to be "marginally below market expectations" and profit before tax to be "significantly below market expectations" as the first-half shortfall would not be recovered.
He said proceeds from the company's landfill operations were also likely to be below expectations and that the board now expected the company to only break even for the full year.
"Our business model has been based for some time now on a flat market, focused on the South East of England, with funding constraining demand despite the many government initiatives to attempt to arrest these conditions," he said.
"We can survive in these conditions and will thrive when conditions improve.
"Despite the difficult trading conditions, positive trading cash flow and proceeds of future land asset sales will mean that the group will continue to develop the business while seeking opportunities for growth."
Gadsden said the firm planned to focus on developing its premium position in the brick market and on concluding its Telford land sales.