Developer appoints four architects on 1.1 million sq ft East London scheme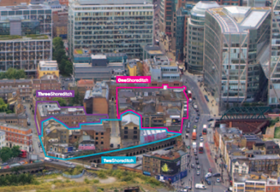 British Land will submit plans for a 1.1 million sq ft scheme in Shoreditch, east London this autumn.
In full year results published this morning, the developer said it has appointed four unnamed architects to work up the designs for the site on Blossom Street in Shoreditch (pictured).
The firm also plans to commit to its 145,200 sq ft nine-floor 4 Kingdom Street office development in Paddington this year and for work to begin on site by the end of the year.
British Land's total capital commitment over the next 12 months could be as high as £1.2bn, with an anticipated profit of around £300m.
In the retail sector British Land has committed to 372,000 sq ft of shopping centre extensions, including schemes at Whiteley Shopping, Fort Kinnaird in Edinburgh and Broughton Park in Chester.
The developer said it "remains positive about the prospects for development returns in London" and has been "replenishing" its development pipeline.
But it will continue to limit development to no more than 15% of its investment portfolio and will limit exposure to the London residential market to remain below £500m.
British Land said a 2.7 million sq ft major development push it embarked on 2010 had come good, realising £608m in profit to date, more than double what it estimated at the time.
Chris Grigg, chief executive, said: "The business is in good shape and we've delivered a strong set of results.
"We have benefited from strengthening occupational and investment markets but the decisions and actions we have taken both this year and in previous years have been a significant contributor to our performance, driving around half our valuation uplift.
"These actions leave us well positioned going forward to take advantage of London's continuing success and improving demand for the best retail space."