Client also provides update on its development pipeline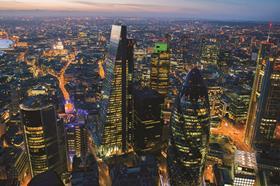 The developer behind London's Cheesegrater tower, British Land, has said it will publish the results of an investigation into the failure of two bolts at the tower earlier this month in the New Year.
In its half-year results, published this morning, the firm said: "The Leadenhall Building [also known as the Cheesegrater] was launched in September with a number of high quality occupiers agreeing to take space in the period.
"Two bolts have recently fractured at the building and a full investigation is being carried out with the results available in the new year."
The firm also provided an update on its development portfolio, and confirmed it has a committed capital expenditure programme of just £113m at present. But it added it had several near-term and longer term prospects, including major schemes in the City of London, and Shoreditch and Canada Water in east London (see below).
British Land said it had achieved £1bn of profit from its current development cycle, which began in 2010, to date.
British Land's pipeline update
Looking ahead to our near-term prospects, with the Office portfolio close to full occupancy, we are progressing the pipeline so we are able to commit to new developments when the time is right. At 4 Kingdom Street, Paddington Central, we have improved the scheme within the original planning consent introducing more flexible floor plates, roof terraces and public amenity space and expect to commit in the next few months. At 5 Kingdom Street, we are working with Hopkins Architects to improve the design on this 240,000 sq ft office scheme.

At Broadgate, we expect to make an application for the redevelopment of 100 Liverpool Street before the end of the year. At Blossom Street, Shoreditch, we are working with the Corporation of London to regenerate 350,000 sq ft of mixed use space. We plan to submit our planning application before the end of the year and will make a decision on this development once we have achieved planning consent.

Our near-term prospects in Retail include the development of Drake Circus Leisure, a £35 million cinema and restaurant scheme adjacent to our Drake Circus Shopping Centre. We have exchanged conditional contracts with Plymouth City Council and will submit a planning application early next year.

As part of our medium-term pipeline, work has begun on a potential masterplan for our 40 acre site at Canada Water, where we are working with the London Borough of Southwark on a mixed use development. Our site, which includes Harmsworth Quays and Surrey Quays, will benefit from the wider regeneration of the area; and is just 2 minutes from Canary Wharf on the Jubilee line. We expect to submit a planning application next year.