BBA says move will reassure clients in wake of Brexit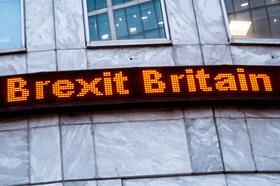 The hopes of UK construction products manufacturers planning to sell their products in the EU after Brexit have been given a boost, with the UK's leading construction products certification body announcing it has opened an office in Ireland.
The British Board of Agrément (BBA) has opened an office in Dublin, setting up a European company known as BBA EU.
The BBA said the move is intended to reassure clients in the UK and Europe of its commitment to maintaining a normal trading position post-Brexit, and look at new growth opportunities outside the UK.
Richard Beale, BBA commercial director, said the move was an "important step" in enabling the organisation to continue providing product certification and Agrément Certificates for European clients and customers in Ireland.
"We will continue to deliver the service they need and expect whether they be manufacturers, installers or distributors of construction products," he said.
"In addition, we are completing the process of achieving Notified Body status for the Ireland office which will allow us to undertake assessment and verification of consistency of performance."
Construction product certification specialist Oriola Davies, a qualified mechanical engineer who has worked for the BBA for more than a decade, has relocated from the BBA's headquarters in Watford to Dublin to help set up the new business.
The news follows the government's confirmation that products which are given the OK in Europe will be able to be used in the UK in the event of a no-deal Brexit.
But the government guidance said it could not guarantee whether products approved in the UK would be able to be used in the EU.