The worker was employed on the Khalifa International Stadium project in Doha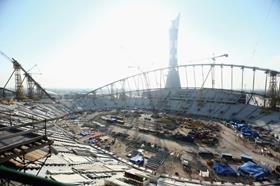 A British worker on a 2022 World Cup stadium project in Qatar has died.
The organising committee behind the tournament, the Supreme Committee for Delivery & Legacy, said a 40-year-old British male died on 19 January while working on the Khalifa International Stadium.
In a statement, the committee said: "The relevant authorities have been notified and the next of kin has been informed.
"An immediate investigation into the cause of this fatality is underway and further details will be released in due course.
"The Supreme Committee for Delivery & Legacy shares our deepest condolences with the family for their loss."