£90m St Mark's Square development was originally meant to be completed at the end of 2015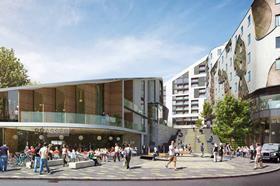 A landmark regeneration scheme in Bromley town centre is running up to two years late, Building can reveal.
The £90m St Mark's Square development was originally meant to be completed at the end of last year but has now been pushed back to at least winter 2017.
When finished, the development will comprise a landscaped public plaza surrounded by a cinema, several popular chain restaurants, a 130-bed hotel and 200 private and affordable apartments.
Sources close to the project said the main contractor, McLaren, is currently in negotiations with the developer, U+I, regarding the scheme and that a new completion date has not yet been agreed.
As Building went to press it was unclear whether the delay was connected to the change in ownership of the scheme, after original developer Cathedral was snapped up nearly two years ago by rival Development Securities to form U+I.
When contacted by Building, McLaren declined to comment. Building was awaiting a reply from U+I as it went to press.
On Monday (8 February), McLaren's website said the development, formerly known as Bromley South Central, was due for completion at the end of last year.
Less than 24 hours after being contacted by Building, the contractor updated its web page and removed the completion date. It now says the project is "under construction" and has not provided a new completion date.
U+I's website says the developer is "anticipating the opening of the commercial element by the end of 2016 and the residential in winter 2017".
It lists Bromley council as a development partner but a spokesperson told Building the council has no financial involvement in the project and no taxpayers' money is being spent on it.
Cathedral won a contract from the council to redevelop the site
in September 2010, which was formerly a 1960s multistorey car park.
Construction started on the 2.4-acre site in April 2013. The foundations of the development and the building structures have been completed but no other visible progress appears to have been made.
Guy Hollaway Architects and Studio Egret West are the architects.