Contractor on course to triple UK revenue in just three years, reveals Europe head Ashley Muldoon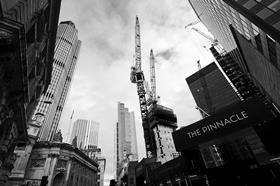 Contractor Brookfield Multiplex is on course to break £1bn UK turnover in 2016, more than tripling its revenue in just three years, in a major turnaround for the UK business.
The Australian contractor, which is owned by Canadian asset manager Brookfield, reported a string of project wins in 2014 worth over £1bn, including the £150m One Blackfriars scheme for St George, and the £140m Centrepoint redevelopment for Almacantar.
This year Brookfield Multiplex (BM) has already been confirmed as favourite to build the £500m 22 Bishopsgate scheme, on the site of the Pinnacle, after being awarded a pre-construction contract by developer Lipton Rogers.
What clients wanted in the Australian market wasn't what was wanted at the time in the UK

Ashley Muldoon, BM
Speaking to Building, Brookfield Multiplex EMEA chief executive Ashley Muldoon said he expected the UK business would hit turnover of £1bn-1.2bn in 2016, and that the firm had a total pipeline of signed or preferred bidder status work of £3bn. He said that £1bn turnover was an "ideal size" for the business and that the firm was now just "selectively bidding" for additional work.
BM's latest accounts covering the UK, for the calendar year 2013, show the firm made a pre-tax profit of £11m on turnover of just £295m.
Muldoon said he expected the company to report turnover of £750m in 2015, before breaking the £1bn barrier in 2016, which would make it a top 20 UK contractor.
If the firm reaches £1bn turnover, it will mark a major turnaround for a business that had to pay out more than £200m to complete construction of Wembley stadium and settle outstanding disputes on the delayed project.
BM's problems on Wembley saw it embroiled in a catalogue of law suits, including the largest in UK construction history, worth £253m, which it launched against Mott Macdonald and which was contested and eventually settled out of court. BM's UK turnover fell to a low of £150m in 2010.
Muldoon said the turnaround was the result of a conscious attempt to rebuild the business after the problem experienced on Wembley. He said:"We made errors in our UK market entry […] We had to adapt to the UK environment […] What clients wanted in the Australian market wasn't what was wanted at the time in the UK."
Read our news analysis on Brookfield Multiplex's here