Brookfield Multiplex takes over from Sir Robert McAlpine on £80m Aldgate Tower job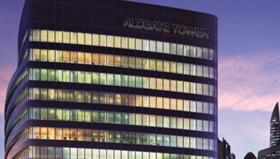 Contractor Brookfield Multiplex is to build an £80m tower on the edge of the City of London for Aldgate Developments, after taking over the job from Sir Robert McAlpine.
Located in Tower Hamlets on the boundary of the City of London, the 317,000 sq ft 16-floor Aldgate Tower is being developed by Aldgate Developments.
Sir Robert McAlpine was confirmed as the main contractor on the job in 2011, but the project was then placed on hold.
Now the developer has given the Wilkinson Eyre-designed scheme the green light, with Brookfield Multiplex taking over the main construction contract, which according to construction information provider Barbour/ABI is worth £80m.
Brookfield said the 16-storey Aldgate Tower was a steel framed structure with a central steel core accommodating lifts, services, stairs and washroom facilities. "The steel structure will sit on the existing three level reinforced concrete basement. The basement will require technical temporary works and structural reconfiguration," the contractor said.
"The main facades will be clad with a fully glazed, full height aluminium framed curtain wall system. Solar control is provided by soft coatings to all the glazing."