Cost and project manager reveals plan to double revenue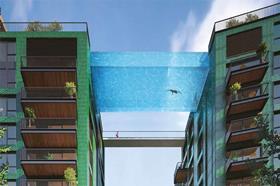 Consultant Bruceshaw has revealed plans to double its revenue within five years.
The cost and project manager is on course to maintain turnover of £9m in the financial year to next month and post profit of £2m. It has 110 staff across four offices in London, Belfast, Glasgow and Manchester.
Bruceshaw separated from fellow consultant Linesight – formerly called Bruce Shaw International – back in 2001. Both firms rebranded last year to help differentiate from each other.
Rennie Dalrymple, managing partner at Bruceshaw, told Building that in the long term the firm was looking to offer more advisory services and get involved in clients' property strategies before project delivery, particularly in the residential, retail and commerical sectors.
Current projects include Ballymore's Wardian twin tower scheme in London's Docklands and the second phase of that developer's Embassy Gardens (pictured) development in Nine Elms, next to the site of the new US Embassy. This development will be home to London's first skyswimming pool – suspended between two towers – and 872 homes.
The firm is also helping revamp the West End's Victoria Palace Theatre – being carried out by contractor 8build – which once complete will stage the Broadway smash hit musical Hamilton.
Castlebrooke Investments has recently appointed Bruceshaw to provide a range of consultancy services on its £400m plans to redevelop a 12-acre brownfield site in Belfast city centre.