Firm targets more sports stadia contracts as it pursues a turnover of £550m in 2019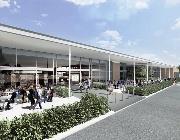 Buckingham Group Contracting is tendering for a £50m mixed-use leisure development that includes a new 12,000 seat stadium for York City Football Club, as the firm pursues its 2019 target of £550m turnover.
The scheme had previously been awarded to ISG, but the firm walked away in December last year blaming delays and cost increases. The project, which is being funded by York City Council and Greenwich Leisure, also includes a multi-screen cinema, retail space, gym and leisure facility.
The contractor, in its latest full-year results, said it was also in discussions for upgrade works to Brighton and Hove Albion's Amex stadium, which are needed to meet the Premier League's requirements following the club's promotion. The firm is the preferred contractor on a 150-bed hotel at the stadium, which may go-ahead this year.
The firm is already working on Tottenham Hotspur's new stadium on a £20m roof cladding contract, but revealed that is also in talks to for the cladding contract for the luxury restaurant Sky Bridge that will be suspended from the stadium's roof.
Buckingham's sports stadium pipeline also includes work at Brentford FC, Scunthorpe United FC and Casement Park in Belfast, Northern Ireland. The firm is preferred contractor on all three venues, but said the projects were delayed due to associated land development and planning issues. It was hopeful the schemes would proceed this year.
Additionally, the firm confirmed that is had been appointed as preferred bidder for Bristol City Council's £92m arena. Buckingham has replaced French contractor Bouygues on the scheme after the firm walked away in January, having failed to agree a price for the build.
Buckingham said it expects work to start on site later this year following the development of the design and cost plan.
The firm has grown rapidly in recent years and posted a further 3% increase in turnover for 2016 to £408m, up from £395 in 2015, but this was below its target of £450m.
Buckingham said that "the short-term impact of the Brexit vote was to delay some of our clients' investment decisions and this contributed to achieving a lower turnover than the early target of £450m.
"Most of the delayed projects still proceeded, and the compensating effect has been to escalate secured work levels in 2017, with a corresponding exaggerated growth rate forecast for this year."
"We believe there will undoubtedly be a degree of negative impact in the coming few years for the general economy. However, over the longer term the board remains cautiously optimistic."
The firm added that its "medium term aim is enhanced business performance and reputation, rather than continuing the aggressive growth achieved from 2013 to 2015. The objective is to sustain pre-tax margins at between 3% and 4%."
Buckingham reported that pre-tax profit jumped 79% to £13.1m for the year ended 31 December 2016, up from £7.3m for the previous year. The firm also posted a year end cash position of £63m and said it had already secured £385m of its turnover for 2017 out of its target of £455m.
Buckingham's civil engineering business saw turnover from its rail operations drop from a peak of £120m in 2015 to £35m last year, which the firm attributed to the completion of its East-West JV with Carillion for Network Rail at Oxford.