Staff to net £1,000 bonus as part of the agreement
Buckingham Group has become the latest contractor to transfer equity to an employee ownership trust.
In a shake-up accompanying the move, partners chief operating officer Tim Brown and chief executive Mike Kempley have been promoted to deputy chairman and chairman respectively.
Founders Paul Wheeler and Patricia Wheeler and sports and leisure director Kevin Underwood have also announced their retirement from the board as part of the deal.
Around 530 staff will net a £1,000 bonus as part of the switch to the new model, while the trust will retain at least 60% ownership of the firm, leaving 40% to be snapped up by other investors.
The Stowe-based firm has been one of the fastest growing major contractors in recent years, with its latest accounts to 31 December 2020 revealing that its turnover had increased by nearly £100m in a year to a record £584m.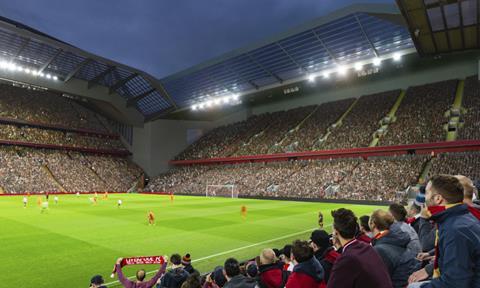 The firm, which is building a new £60m stand at Liverpool's Anfield stadium, said in June that it expects turnover to top £625m this year with income for next year budgeted at £665m.
It also said its forward order jumped from £710m to just over £1bn in part helped by booming workloads in its industrial logistics business where it has built warehouses for Amazon and specialist operators Prologis and Panattoni.
The firm's HS2 operating division also secured £47m in sales for enabling works and has been awarded future work worth nearly £160m on the high speed railway.
Contractors Briggs & Forrester and Readie Construction both switched to an employee ownership model this year.