Osborne unveils funding for 'Northern Powerhouse' schemes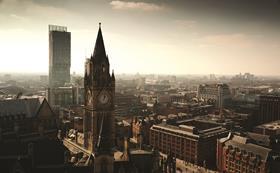 Chancellor George Osborne has announced plans to extend devolution to regional cities by allowing Manchester, Cheshire East, Cambridgeshire and Peterborough to retain 100% of their own business rates growth under measures aimed at rebalancing the economy away from London and the South East.
This new powers mean that local areas will be in full control of policy decisions over local growth rate and business rate revenues, sharpening incentives to boost jobs and growth. The move comes after the government launced a "radical" review of England's business rates system on Monday, with its findings due in time for the Budget in 2016.
The plans were part of a raft of measures to allow regional cities more powers to control their own budgets, including the conclusion of negotiations to hand over powers to a West Yorkshire Combined Authority, which will see West Yorkshire gain new powers over skills, business support and transport.
The Chancellor also confirmed plans to publish TransNorth Vision, which outlines plans to build on the initial concept for the high speed rail link between Manchester and Leeds, dubbed 'HS3', and develop high quality rail connections across the north.
The government pledged to fund a High Speed Rail Investment Summit in Birmingham, which is currently home to HS2's new headquarters.
Osborne also allocated an initial £60m to six universities across the Midlands for a new Energy Research Accelerator.
The Budget also signaled the expansion of enterprise zones in the Humber, Manchester, Mersey Waters, Tees Valley and, after business case completion, the government will also create a new enterprise zone at Blackpool.