Osborne confirm £270m guarantee for Gateway Bridge project, plus more cash for local infrastructure projects across UK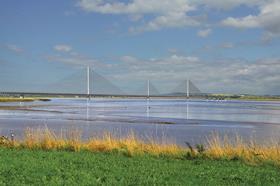 George Osborne has confirmed a £270m guarantee for the Mersey Gateway Bridge project and announced a boost for local infrastructure projects around the country, with an additional £140m for flood repairs and maintenance and £200m for potholes.
In a Budget statement that was light on major infrastructure announcements, the chancellor confirmed the government would use the £40bn UK Guarantees scheme to underwrite £270m of investment in the £600m Mersey Gateway Bridge project (pictured).
Last year a consortium including contractors Kier and FCC won the job to build the new bridge across the River Mersey between Runcorn and Widnes.
The state backing for the project follows earlier confirmation of UK Guarantees for EDF's Hinkley Point nuclear scheme as well as the partial conversion of the Drax power station to biomass and the extension of the Northern line of the tube to Battersea Power Station.
The Treasury said the £200m "potholes challenge fund" would allow local authorities to bid for funding to repair up to 3.2 million potholes following the recent severe weather.
It also said the £140m to repair and restore the condition of flood defences that have suffered damage in the recent flooding would be made available immediately, and was in addition to previously announced spending boosts.
Nick Baveystock, Institution of Civil Engineers director general, said the cash for flood defence repairs and potholes was welcome, but added he was "disappointed" that the government had "missed the opportunity" to commit to longer-term flood resilience funding, beyond this five-year spending cycle.
Steve Bromhead, head of UK infrastructure, industry and utilities at EC Harris, said the Budget was a "damp squib" and had failed to fast-track the National Infrastructure Plan.
"What is becoming clearer is the need to turn this plan into action and to integrate infrastructure policy," he said.
"We must get these initiatives off the ground and ensure the investment, regulation and other enablers are put in place by the government to allow this."