Croydon council's own development company behind £300m plan to build 1,000 homes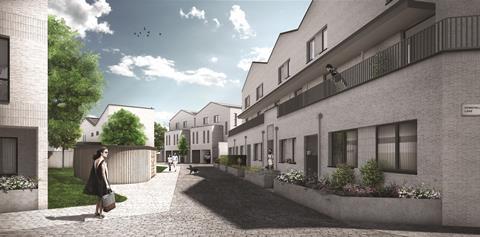 A development company set up by a council in south London to make sure homes are better designed has handed four contractors the first deals under a planned £300m spending spree.
Brick by Brick was established last year by Croydon council to build more than 1,000 homes across the borough by 2019.
The council said it decided to do things itself because it wanted locals to have access to "high quality and affordable housing". The roster of architects on its framework panel includes a number of award-winning practices including Mae, Stitch Architects, Coffey Architects and HTA Design – the practice of current RIBA president Ben Derbyshire.
Explaining the decision to bring in design-led firms, the developer's chief executive Colm Lacey said: "Design and build quality is extremely important to us."
Now Brick by Brick has awarded Osborne Homes, the residential arm of Osborne, four sites, with north London firm Quinn and Surrey firm Buxton Building Contractors picking up two each. West London outfit Henry Construction Projects has been handed work at one site.
All four sit on Brick by Brick's £300m-plus framework, along with Dawnus Construction, Kind & Company and Neilcott Construction.
The framework will last for three years and is set to deliver 30 sites in the borough that have planning. Work on the first of the remaining 21 plots is due to start in February.
Lacey told Building earlier this year that the developer wanted to use local builders and smaller firms that might be considering making the step up into main contracting.
He said: "We are looking to use local supply chains and have designed the new homes to be compatible with timber panelised systems to cut down on products coming from Europe and construction price inflation."
Brick by Brick's overall pipeline includes over 1,500 homes at College Green, which is next to the £30m redevelopment of 1960s-built arts venue Fairfield Halls, where contractor Vinci is on site.
Croydon is set to undergo a makeover in coming years and last month the council gave the green light to Hammerson and Westfield's revised plans for a £1.4bn redevelopment of the town's Whitgift shopping centre.