Second reading of Aldous Bill due next month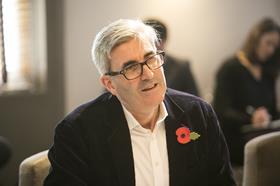 The new chief executive of the Building Engineering Services Association has said the government needs to throw its weight behind plans to reform the retentions system known as the Aldous Bill.
A second reading of the bill, which has been introduced by Conservative MP Peter Aldous and which proposes cash retentions owed to the supply chain be held in trust, is due to be held at the end of next month.
David Frise said: "I can't see why this [the Aldous Bill] needs any further discussion.
"We have had multiple voluntary late payment initiatives over the last two decades – none of which proved of to be of any use whatsoever in the face of notorious late payers like Carillion.
"[Business secretary Greg Clark] is right when he says this is an urgent problem that is fundamental to our economy. So let's have urgent and tough action – starting with getting the Aldous Bill through Parliament."
M&E contractor Vaughan Engineering Ltd is set to call in administrators this week after admitting that being owed £600,000 by Carillion was too much for it to wear.
"The government must not stand idly by and watch more companies go under and more people lose their jobs," Frise said.
He added news that Carillion's special manager PwC has racked up £20m fees in the first eight weeks of handling the liquidation "rubbing salt into the wounds" of firms caught up in the collapse.
"PwC blithely informed the industry that none of the payments outstanding on January 15 [when Carillion went bust] would be paid, but are, no doubt, receiving their own multi-million pound fees without delay while thousands of SMEs face ruin."