Award-winning charity faces £2m shortfall after CITB cuts funding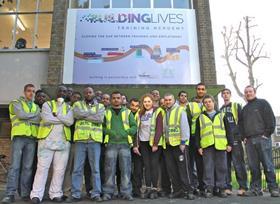 Award-winning training charity Building Lives has had its CITB funding withdrawn in a move which it says will put 500 new apprenticeship places at risk.
The charity says the CITB has ruled that Building Lives does not conform to its grant scheme rules, making it ineligible for funding. The charity, which was setup in 2010 by Lakehouse founder Steve Rawlings and won training initiative of the year at the 2014 Building Awards, now faces a £2m funding gap.
The charity runs ten training academies across London and was on schedule to deliver construction training to over 500 unemployed Londoners a year to tackle both unemployment and the construction skills crisis.
However, it claims the withdrawal of CITB funding is putting the operation at risk and that without alternative support Building Lives will be forced to close.
Rawlings said: "Time really is of the essence now. We have reacted quickly to redesign our model to attract additional funding so that Building Lives can continue to support unemployed Londoners into proper construction jobs."
The news comes in the middle of National Apprenticeship Week. The Skills to Build report recently commissioned by KPMG and Chamber of Commerce suggested there is a need for almost half a million construction workers by April 2015.
CITB delivery and customer engagement director Carl Rhymer said: "Unfortunately, Building Lives does not sit within the grant scheme rules. This means that we are unable to provide grants for a new intake of Building Lives apprentices.
"However, we have committed to support all apprentices currently training with Building Lives and enrolled with CITB by January 2015 until they complete their training."