Ian Higgs and David Boles have been appointed to consulant's board of directors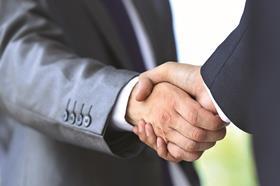 Buro Four has promoted two directors to join its board of directors.
Project director Ian Higgs and regional director David Boles have both been appointed to the consultant's board as it took the move to expand its board following several recent project wins, including the new Museum of London.
Higgs moves up having returned to Buro Four after setting up his own business and working on projects including the Media Hub at the Olympic Park in London.
Boles has been appointed to the board after growing Buro Four's business in Manchester and the North West, and following his promotion will take overall responsibility for the firm's regional offices.
Commenting on the appointments, Buro Four chairman Iain Roberts said: "This strengthening of the board both serves the immediate needs of the Company to deliver our broad range of secured work and seek new opportunities, as well as supporting our long-term succession plans".
The firm has also recently hired project manager Stuart Newton from Lendlease, who previously worked on projects including Wonderlab at the Science Museum and the Members Room project at the V&A.
Buro Four said it is looking to "broaden and strengthen" its service in the arts and culture sector.