Two problem contracts for fit-out arm Chorus lead to £12.1m loss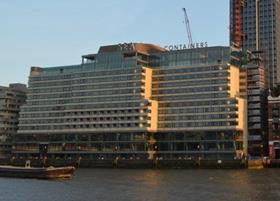 Byrne Group has posted its first ever pre-tax loss – £12.1m - after taking big hits on two high-profile London jobs.
The group said in full-year accounts for the year to May 2014, posted at Companies House, that its fit-out business, Chorus, had experienced "significant delays" and alleged "under performance from the M&E subcontractor" on the Sea Containers House hotel and office development on Bankside (pictured).
The M&E subcontractor on the job was Balfour Beatty Engineering Services.
Balfour Beatty was unavailable for comment before Building went to press.
Another Chorus job, Buckingham Gate, a high-end residential development in Westminster, "encountered significant difficulties with the ground conditions, which created an escalation in costs".
When contacted this week by Building, Byrne managing director Tony Dowle said the firm was now benefiting from "a strong recovery in new work" in the current financial year. Its forward order book stands at £650m.
Dowle said it was taking a more "selective" approach to new contracts, with a focus on "technical quality".
Byrne Group is best known as a concrete frame subcontractor but has grown its fit-out operations in recent years.
The problem fit-out contracts pushed the group into the red last year, despite turnover growing by a quarter to £349.1m for the year to May 2014, up from £280.1m the previous year.
Byrne had posted a small pre-tax profit of £630,000 for the year to May 2013.
This week Byrne said it forecasts a dip in turnover to £300m for the current financial year, but a sharp increase to £400m for 2015/16.
Last year, despite the problems at Chorus, turnover in the fit-out division rose to £159m.
The group said its concrete frame business, Byrne Bros (Formwork), had had a strong year, securing work on courts 14 and 15 at the All England Club in Wimbledon, and International Quarter Stratford City, which at 4 million ft2 is the biggest new commercial development in London, comprising one 30-storey tower and another of 17 storeys.
FB Ellmer, the group's high-end fit-out arm, grew turnover 23% to £68.9m. Recent contract awards include a £30m appointment in Kensington for a residential job, a joint venture between developer Grainger and the local authority.