But Yorkshire-based contractor loses money on hosting rugby matches at Headingley stadium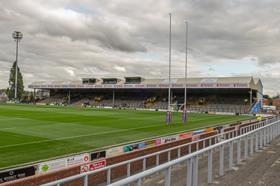 Yorkshire-based Caddick Group saw profit and turnover increase by more than a third in its financial year ended 31 August.
Caddick works in civils, construction and development of industrial and residential property – as well as the staging of professional rugby matches at Headingley stadium (pictured).
Company accounts show revenue at the contractor shot up by almost 50%, to £227m from £152m.
The increased was derived from an 260% increase in its property development revenue, with construction income dipping slightly to £90m.
The firm saw pre-tax profit grow from £8m to £11m.
But it lost £703,000 on hosting sports matches, from a turnover of £10m.
The group's chairman, Paul Caddick, said despite Brexit concerns he was confident for the future due to a shortage of residential and industrial units.
He also admitted Headingley's home team Leeds Rhinos, which he owns, "had a poor season" on the pitch.