Housebuilder Cala has acquired luxury home builder Banner Homes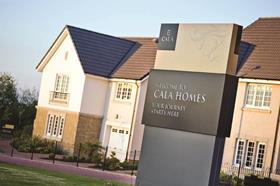 Cala Group said the acquisition was part of the firm's strategy to double the size of its business by 2017.
Banner develops high specification, luxury homes, and operates across central and southern England.
The combined Cala and Banner business will directly employ over 600 people and have a turnover of more than £500m in its first full year, with net assets of £200m.
Cala said that over the longer term, the combined company will have the potential to deliver around 2,000 homes per annum by the 2017 financial year at a private average selling price in the region of £400,000, with turnover in excess of £800m.
Founded in 1975 in Beaconsfield, Banner Homes currently operates from 21 sites across three regional operational centres in the northern Home Counties, the southern Home Counties and the Midlands.
Banner sold 235 homes during the twelve months to May 2013 at a private average selling price of £511,000, resulting in revenues of £111m and operating profit of £16.4m at a gross margin of 24%.
Alan Brown, group chief executive of Cala, said: "Banner has a deserved reputation as one of the finest luxury house builders in the UK and combining the two businesses will put us in the top 10 of UK home builders with significant growth potential.
"Both businesses build high quality homes, place a strong emphasis on customer service and have very similar cultures and I am tremendously excited about bringing together the best of both Cala and Banner in order to drive the enlarged group forward."