Housebuilder posts bumper results and reveals ambitious expansion plans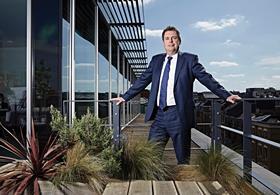 Housebuilder Cala has revealed it is targeting doubling revenue to £1bn within five years, on the back of bumper results for the year to June 2015.
In its results, Cala posted a 90% jump in pre-tax profit before exceptional costs to £50.9m, up from £26.8m the previous year.
Revenue rose 79% to £511.6m, up from £285.4m, boosted by the first full year of contribution from acquired English builder Banner, bought in March 2014. The formerly Scottish-focussed Cala now generates 60% of its revenue south of the border, although fractionally more units are still delivered in Scotland.
Cala chief executive Alan Brown (pictured) told Building the shift in focus from Scotland to England would continue as the firm targets further rapid expansion, saying: "Growth will continue to be driven from England." He said the £1bn revenue target could be achieved through building 2,000 to 2,500 homes per annum through the firm's existing network of eight regional businesses. Cala completed 993 homes in the year to June.
When asked to comment on speculation that Cala is preparing to float on the London stock exchange, following its acquisition by investors Legal & General (L&G) and Patron in 2013, Brown said: "The type of owners they are [L&G and Patron] they're not owers for the long term. In the future there will be some sort of exit strategy. I can't put a timetable on that."
The average selling price of Cala homes rose to £509,000, up from £423,000, while its operating margin increased to 14.3%, up from 13.6%. Cala said it was targeting further margin growth through driving through "operational efficiencies", which it expects to fully realise by 2018.
Brown said Cala was impacted by a "shortage of labour" between July and October last year, but that labour and material shortages had subsided: "There's been stability since January of this year."
Cala said it "remained alert" to the potential impact of further oil price declines on the Aberdeen economy, which it said had suffered a slowdown in economic activity since the end of the 2014 calendar year, but the firm said it "remained confident of its position in the region" due to its "longstanding experience" of operating in the city.
Banner was fully integrated into the Cala business by December 2014, and adopted the Cala brand.