Cormac Mac Crann retires from managing director role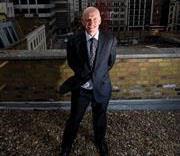 Canary Wharf Contractors managing director Cormac Mac Crann has decided to step down.
Mac Crann is finishing up with the company this week.
Irish-born Mac Crann trained as a quantity surveyor in Dublin before moving to Iran to work for a Dutch engineering firm.
After stints in the Middle East, briefly running a boat building business in the UK and at QS firm Lehrer McGovern International, Mac Crann joined Canary Wharf Contractors nearly 30 years ago.
He started working on the Canary Wharf project in 1989 and became a project executive with Canary Wharf Contractors in 1998.
He was promoted to director of construction in 2002 and became executive director responsible for shell and core projects in 2006.
Since 2015, Mac Crann has been a managing director of Canary Wharf Group primarily responsible for projects away from Canary Wharf.
During his time with Canary Wharf Group, Mac Crann oversaw some of London's most high-profile developments, most recently at 20 Fenchurch Street, better known as the Walkie Talkie which was completed four years ago and designed by architect Rafael Viñoly, and Southbank Place which is currently on site and involves redeveloping the Shell Centre on the south side of the river Thames by adding eight new buildings. Architects working on the scheme include Squire & Partners, KPF and Stanton Williams.