Canary Wharf Contractors is to go to market to procure £300m of trade roles on Wood Wharf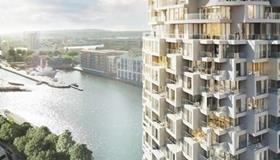 Canary Wharf Contractors is to go to market to procure £300m of specialist contractor packages as it gears up for construction of the first phase of the 3,500-home Wood Wharf scheme in Canary Wharf.
The procurement for trade contractors roles will include packages for cladding, RC frame and M&E services.
Laing O'Rourke piling subsidiary Expanded has already been appointed to the piling contract for Wood Wharf phase one and John Hoole has begun the six month dig out for the basement on this phase.
Cliff Bryant, managing director at Canary Wharf Contractors, said: "Once Wood Wharf is under way it will comprise roughly a third of Canary Wharf Contractors' turnover, alongside developments elsewhere on our estate and the Shell Centre build out."
Canary Wharf Contractors hopes to begin on the affordable housing section of the site, which comprises a substantial part of phase two, in the third quarter of 2016.
The 13.6 hectare Wood Wharf extension to the existing Canary Wharf estate will see 3,610 new homes created as well as a primary school, doctor's surgery and 3.6 hectares of interconnected public space.
Bryant said that the contractor is not encountering skill shortage issues, but that it will remain alert to them as it may become more challenging "further down the line - for example, when we start fitting out our residential buildings," which is due to intense activity in this part of the London property sector.
He added that the company has an advantage over other large schemes in London because of the "far more challenging logistics" of their city centre locations with the firm also having the option of using the river for transportation to and from its sites.