London mayor confirms clause will be triggered if line not open by start of 2023
Transport for London will be forced to pay up if Crossrail does not start running trains through Canary Wharf before the end of next year.
A written answer from London mayor and TfL chair Sadiq Khan revealed the pair had struck a deal that will see Canary Wharf compensated if the Elizabeth line falls more than six months past its current scheduled completion date.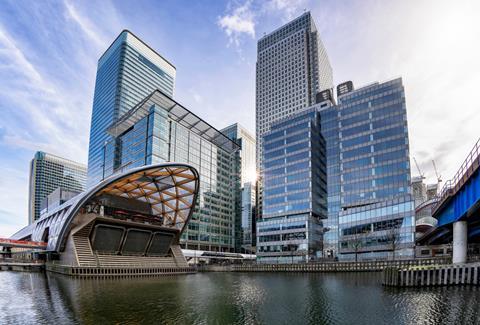 The central section of the line, which includes Canary Wharf and had been due to open in December 2018, will now open in the first half of 2022.
But Khan admitted TfL will be forced to stump up if the opening date slips again.
He said: "In 2019, Transport for London and Canary Wharf Group agreed that 31 December 2022 is the earliest date on which any payment would become payable for the station not being operational."
It had previously been reported that TfL and Crossrail could have to fork out £15m to the Canary Wharf Group if its new Elizabeth Line station was not complete by 2021.
Canary Wharf Group is one of several London businesses that have poured funding into Crossrail, with the group spending £150m on the scheme.
Three years ago, Canary Wharf and Crossrail were at loggerheads after the developer accused Crossrail of trying to distract from the scheme's delays following claims made by the railway's chief executive to MPs that it was having to spend £80m to make its station, built by the developer's contracting arm, safe while questioning the quality of work carried out there.
Mark Wild said it was having to shell out the sum to make sure the Foster & Partners-designed station met London Underground standards.
But Canary Wharf Group said it "categorically dismiss[ed]" the comments made by Wild.
A spokesperson added: "When practical completion [at Canary Wharf station] was reached and accepted by Crossrail in September 2015, Crossrail complimented Canary Wharf Group on the quality of its workmanship and materials used."
Meanwhile, Crossrail has now handed over the Farringdon Elizabeth line station, built by the Bam, Ferrovial and Kier joint venture, to TfL making it the first central London station on the route to reach the milestone.