Allies and Morrison behind 66-storey proposal while 40-storey block by Ian Simpson OK'd
Allies and Morrison has drawn up concept proposals for Canary Wharf's North Quay that include towers up to 66 storeys tall.
The architect is the fourth practice to have had designs on the site in east London.
Its preliminary vision for the plot, which is immediately north of the new Fosters-designed Crossrail station, could deliver around 950 new homes and a range of commercial uses, according to a presentation delivered to Tower Hamlets councillors last week.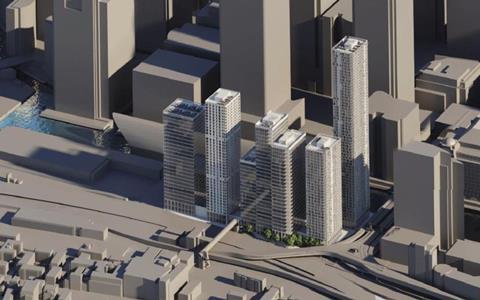 North Quay, owned by Canary Wharf Group, already has consent for a commercial scheme designed by César Pelli & Associates with Will Alsop, featuring towers of up to 43 storeys, 372,660sq m of office floorspace and 5,324sq m of retail and cafe uses.
The tallest element of that scheme, dating from 2007, would be comparable in height to the Allies and Morrison plans because of lower floor-to-ceiling heights for residential schemes. César Pelli was the architect of One Canada Square which is synonymous with Canary Wharf.
A Foster + Partners scheme for the site that featured four buildings ranging from 30 to 67 storeys in height was submitted for planning in 2017 only to be withdrawn later the same year after planned tenant Deutsche Bank pulled out of the project, council officers said in a report.
That scheme proposed up to 158,586sq m of office floorspace, plus 1,423 flats, 216 serviced apartments and 25,213sq m of retail, food and beverage uses.
Dutch architect Mecanoo was also commissioned by Canary Wharf Group to draw up plans for part of the 3.27ha site but its 2018 proposals never made it as far as planning.
Tower Hamlets planning officers said Canary Wharf Group was now looking to introduce up to eight new buildings to North Quay – which is currently being used as a temporary construction compound.
Elsewhere at the site, developers Rockwell and FirethornTrust have received the green light from the council to develop Quay House, a new 40-storey scheme featuring 279 apartments and a 400-room hotel. An existing three-storey building will be torn down to make way for the new scheme.
The development is designed by SimpsonHaugh, the architect responsible for the Multiplex-built One Blackfriars luxury apartment tower in Southwark, south London.
Planning consultant on the Quay House development is Savills, structural engineer is OCSC and façade engineer Ramboll.