Developer had been expected to turn Empress State Building into homes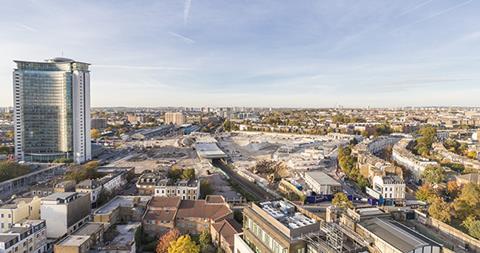 Capco has confirmed it is in discussions with the Mayor's Office for Policing and Crime (Mopac) over the ongoing use of the 1960s tower by the Metropolitan Police.
The 31-storey tower (pictured), which is currently occupied by the Metropolitan Police counter-terrorism and organised crime centre, sits within the developer's 77 acre Earls Court redevelopment and was previously expected to be turned into 400 new homes and retail space once the Met moved out when its lease expires next year.
The developer said it was considering options for the building, which was completed in 1961, including a lease extension and selling the freehold interest to Mopac.
Designed by Stone, Toms & Partners, the 100m tower was briefly the tallest building in London until Millbank Tower was built in 1962. Architect Wilkinson Eyre carried out a renovation of the building, named after the Empress Hall which formerly stood on the site, in 2003.
The news comes after Hammersmith & Fulham council last month rejected Capco's request for a new masterplan for the west London site.
The firm originally won planning approval for the Sir Terry Farrell-designed masterplan in 2013 to build more than 7,500 homes at Earls Court.
But towards the end of 2016, Capco revealed it wanted to increase the number of homes by 2,500 to 10,000 and presented proposals to the Greater London Authority (GLA) as part of the consultation for the revised London Plan.
In its half year results in 2017, Capco reported that it had had outlined to the GLA the Earls Court masterplan's ability to deliver "a minimum of 10,000 new homes" and chief executive Ian Hawksworth said the firm was progressing plans to maximise the scheme.
But the council said it did not "believe that the proposed level of density and affordable housing could be supported or delivered".
It considered the current agreed scheme as undeliverable and called on Capco to return the West Kensington and Gibbs Green Estates to the council.
The Royal Borough of Kensington and Chelsea last month lent their support to Hammersmith & Fulham, with the council's deputy leader Kim Taylor-Smith reporting he had written to Capco asking it to "explore any opportunities to increase the level of genuinely affordable housing and social housing in the project".