Earls Court developer Capco reports strong results for the first half of 2015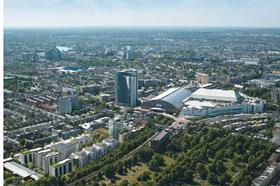 Earls Court developer Capital & Counties Properties (Capco) has posted a 50% jump in pre-tax profit to £277.3m for the six months to June 2015, up from £139.8m for the same period in 2014.
The developer also reported an 8.9% increase in the valuation of its property portfolio to £3.4bn, up from £3bn in December 2014.
Revenue dipped slightly to £52m, down from £54.2m.
Ian Hawksworth, chief executive of Capco, said "Our two London estates have had a positive and active start to the year. Covent Garden is established as a leading destination for global brands wishing to come to London and demand for the estate across all uses is strong".
He added that "plans at Earls Court continue to advance. We have completed the investment vehicle with TfL and demolition is progressing well. At Lillie Square, construction of Phase 1 is on track and we are finalising plans to begin sales of Phase 2".
The firm also reported that for London the "economic outlook is positive and its population is growing significantly" and therefore Capco considers the Earls Court redevelopment "vital to London's housing supply".
Capco during the first half of the year also acquired a 50% stake in Solum Regeneration, in joint venture with Network Rail as it looks to "explore opportunities for future redevelopments on and around significant railway stations in London".