Carillion has won £1.7bn worth of new business since the start of July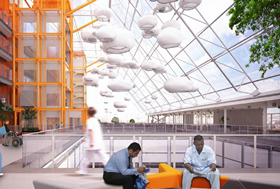 Carillion has won £1.7bn of new business in less than four months, the firm has told investors.
In a statement the firm said it had secured the haul of work since the start of the second half of its financial year on 1 July.
The firm has been awarded a £146m contract as part of a joint venture for the A14 upgrade for Highways England and preferred bidder positions for a £90m contract to build the Great Arundel Court development on London's Embankment and a £75m schools contract for Peterborough City Council.
Carillion as part of a joint venture has also been confirmed as the preferred bidder for the Midland Metropolitan Hospital (pictured) Public Private Partnership (PPP) project in Birmingham that is expected to generate over £600m of revenue for the firm.
Carillion won £400m of contracts with Network Rail via a number of frameworks and early contractor involvement contracts, and also noted that its work on the Midland Main Line Electrification project has been "unpaused".
In Canada, a Carillion joint venture has been selected for the £220m Stanton Hospital PPP project in Northwest Territories in which it will invest £4m and another joint venture for the firm has been awarded the £140m for the North Battleford PPP hospital in Saskatchewan in which Carillion will also invest £4m.
In the Middle East, Al Futtaim Carillion, has been selected as the preferred bidder for two commercial development projects in Dubai, worth £90m.
Carillion chief executive, Richard Howson, said: "As we expected, the pace of work winning in the second half of the year has started to pick up. Since the half year, we have secured contracts, preferred bidder positions and framework agreements that are expected to be worth around £1.7 billion.
With cash flow remaining healthy and these recent contract successes, we remain confident of achieving this year's targets, including ending the year with strong revenue visibility for 2016."