Defence secretary and shadow chancellor backing so-called Aldous bill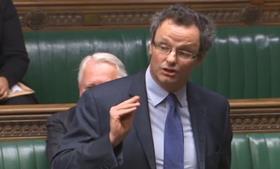 The current defence secretary, a former chancellor and the leader of the Liberal Democrats are among 120 MPs throwing their weight behind Tory MP Peter Aldous' retentions bill.
Gavin Williamson, Ken Clarke and Vince Cable have been joined by a raft of other big names to support the bill, which has its second reading next Friday.
Shadow chancellor John McDonnell is also supporting the proposal along with Green party leader Caroline Lucas and high-profile Conservative Remain supporter Anna Soubry.
The list, which includes 68 Labour MPs and 29 Conservatives, has swollen tenfold since Carillion collapsed back in the middle of January, just days after the bill had its first reading.
In the wake of the contractor's failure, a coalition of more than 75 trade bodies, representing more than 340,000 businesses, has united behind Aldous' plan which proposes that cash retentions owed to the supply chain are held in trust.
Aldous (pictured) and a number of trade bodies will present a petition to 10 Downing Street on Monday next week.
The MP for Waveney in Suffolk said: "Industry support for reform to outdated payment systems is at unprecedented levels, for which I am very grateful.
"The industry loses around £1m for each working day, mostly from SMEs. There have been proposals to stop the abuse of retentions before, but this time there is the largest coalition on fair payments ever."
In his spring statement last month, chancellor Philip Hammond vowed to crack down on late payment culture by issuing a call for evidence on how "the continuing scourge of late payments" can be eliminated.